Yorta Yorta/Gunaikurnai theatre maker Andrea James has been thinking a lot about her parents lately.
They died at just 54 years old when the actor and playwright was in her 30s; she is now 52.
Being reminded of her family — and of mortality — seems inevitable, given the subject matter of her latest project, directing Melissa Bubnic's Ghosting the Party, which opened in Sydney last month.
"If you have those people who left too early, you're always going to think, 'What can I do to pass on their legacy and their stories? How can I learn from their experiences to just live a good, full life that is going to benefit the communities that we work in?'" James tells ABC Arts.
"My parents really didn't have much time on the earth and it definitely makes you aware that you could be taken away from it all at any time."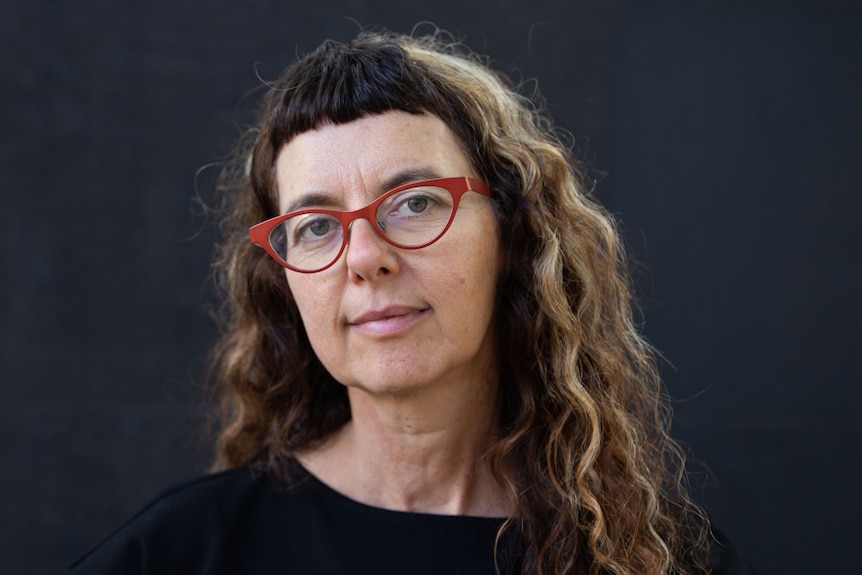 Last month, the celebrated playwright, director and dramaturge took home the coveted $30,000 Mona Brand Award for Women Stage and Screen Writers for her body of work, including more than 10 plays which centre contemporary First Nations stories and peoples, such as Winyanboga Yurringa and Yanagai! Yanagai!
The judges commended her work for being "unruly, delightful and heartbreaking" even as it spoke to "things many of us are too afraid to face".
James is an artist with a reputation for being willing and able to engage with complex, emotionally fraught issues, both personal and communal, and then share them with audiences – the kinds of topics explored in Ghosting the Party.
A tale of two plays
A graduate of the Victorian College of the Arts, James previously worked as Aboriginal arts development officer at Blacktown Arts Centre, and was artistic director of Melbourne Workers Theatre from 2001 to 2008.
Currently an associate artist at the Griffin Theatre Company, she says she ended up directing Ghosting the Party almost by chance and only discovered how much the work resonated later in the process.
"As I read into it [the play] deeper, I thought, 'Oh gosh, yes, this is really reminding me of my mother actually, [and] of all of the mothers, all of the grandmothers [in society].'"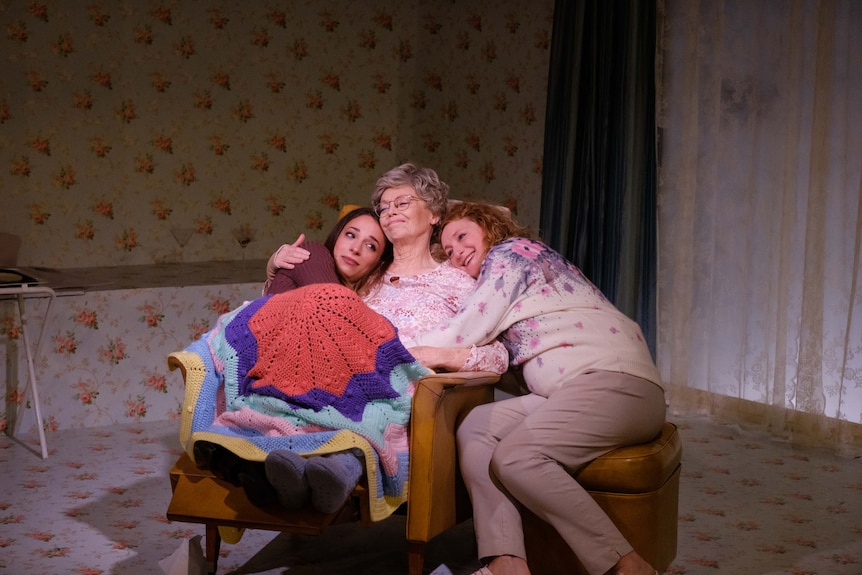 The play introduces us to 87-year-old Grace (Belinda Giblin), who is ready to die – except her daughter Dorothy (Jillian O'Dowd) and granddaughter Suzie (Amy Hack) would rather she didn't.
"Grace is fierce, she has got a wicked sense of humour … and is really resolute and determined," James told ABC RN's The Stage Show.
Grace's decision forces 57-year-old Dorothy and 34-year-old Suzie to confront their feelings of regret and to grapple with questions of mortality, forgiveness, and what makes a life worth living.
James loves how the play depicts women of a certain age: "This doesn't get placed on stage very often, but what happens to middle-aged women is they get put on the scrap heap. We're undervalued.
"Yet all these very tricky, very diplomatic things happen in the home, in the domestic space. What Melissa has achieved so beautifully is to bring domesticity up to the place it should be – where really, really important things happen."
The other play on James's plate is Sunshine Super Girl, which she wrote and directed. It kicks off an Australian tour this year, starting at Darwin Festival in August.
While its debut at Melbourne Theatre Company was postponed due to COVID-19, Sunshine Super Girl premiered at Yarruwala Wiradjuri! festival in Griffith – Goolagong's hometown – in 2020.
Produced by Performing Lines, it dramatises the story of Wiradjuri sporting legend Evonne Goolagong Cawley, who, having grown up in a country town playing tennis with a wooden-crate-slat and ball, became Australia's first Aboriginal world tennis champion, despite the entrenched racist and sexist politics of the 1970s and 1980s.
Read the rest of the story here. First published by the ABC on June 8, 2022.