Zindzi Okenyo was in her early 20s when she first heard about Saartjie Baartman.
She came across the name in a play: Venus by Suzan-Lori Parks — and was immediately obsessed.
Baartman was a Khoisan woman from South Africa. In 1810, when she was still in her early 20s, she was taken to the UK by showman Hendrik Cesars, where she was effectively turned into a living exhibit.
Ogled and groped, and considered a monstrosity, Baartman endured horrific abuse over her lifetime.
"She's been a very prominent figure within the African community because she was a woman who was taken from her tribe and paraded around Britain," Okenyo told ABC RN's The Stage Show.
A successful actor and musician, Okenyo began her career at a time when there were few people who looked like her in the industry.
Now, as she steps into a new phase of her creative practice, directing theatre, Saartjie Baartman is once again on her mind.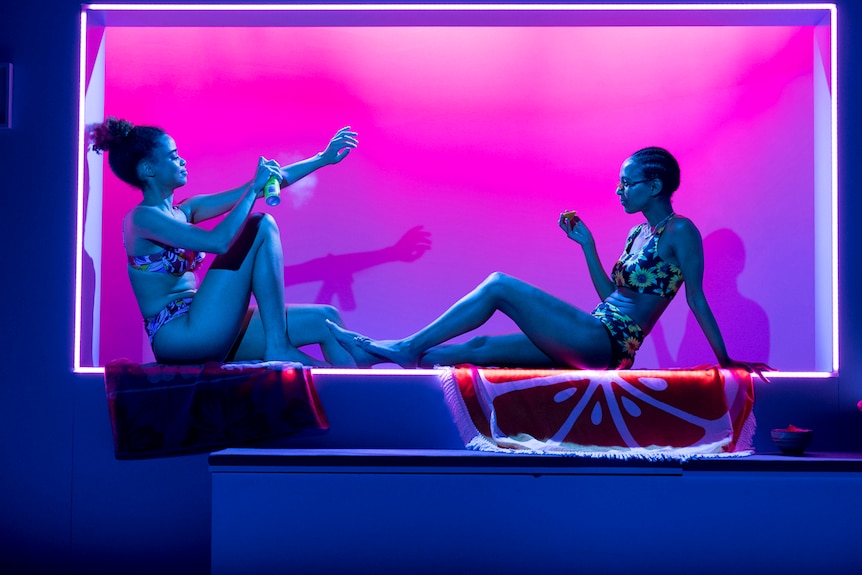 Okenyo has two productions currently on Australian stages: Seven Methods of Killing Kylie Jenner, by British playwright Jasmine Lee-Jones, at Brisbane's La Boite until March 19 (after Sydney seasons in 2021 and January 2022), followed by Melbourne's Malthouse in July; and Orange Thrower, by Australian actor-turned-playwright Kirsty Marillier, at Sydney's Griffin Theatre Company until March 26, followed by Riverside Theatres in Parramatta.
Both are written by black women, and feature young, black women or women of mixed race growing up in predominantly white communities.
The plays confront and explore questions of identity, racism, sexuality and class from the perspective of the African diaspora.
These are questions that Okenyo herself is no stranger to. She's seen them play out in the rehearsal room, and rapped about them in her music.
And in considering these issues and questions, she has often thought of Saartjie Baartman.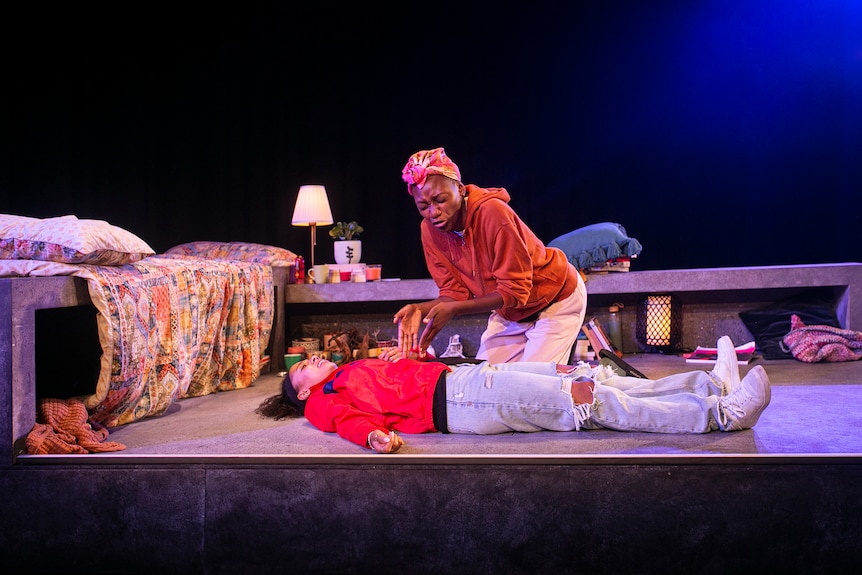 In the video for her 2020 song Anthropology, a statue-like Okenyo is unpacked and put on display for a white audience. Stripped of her humanity, she is reduced to an artefact in a museum setting.
"The video's concept and the song were a way for me to express the feeling of being watched all the time and being kind of dissected and pulled apart, which I know is not an unfamiliar internal feeling for a lot of black and brown people in this country," she says.
Quote unquote diversity
When she was 26 years old, Okenyo googled "What does it mean to be black and feel white?"
"I really saw my blackness through the eyes of white people, and [I found] that actually, people had so much to say about who I was and what I represented. And I felt really powerless," she recalls. "And so I basically went on a journey of trying to gain my own personal power."
Through her music, Okenyo found she could embrace her queerness. She went from "really struggling to put the female pronouns in the songs I was writing about love," to creating tracks like Buckle Up in which she is openly, joyfully herself.
Making that journey has meant being visible even when she didn't feel safe.
"I experienced a lot of homophobia and also internalised homophobia, early on in my 20s. …And the reality is I don't necessarily have many people to connect with or look up to, but [I was determined] I'm going to push through for myself."
Continue reading here. First published by the ABC on March 17, 2022.