Rhys Nicholson, stand-up comedian and RuPaul's Drag Race Down Under judge, still remembers the first time they watched The Adventures of Priscilla, Queen of the Desert — at the age of six.
The iconic 1994 Australian comedy stars Hugo Weaving and Guy Pearce as two drag queens, and Terence Stamp as a transgender woman, following their epic road trip in a tour bus called Priscilla.
Nicholson watched the movie with their mother: "She fast-forwarded through the rude bits, but because it was on VHS it meant I still saw it all, just faster."
It blew their tiny mind.
"I remember saying to my mum, 'What is happening?' Because in the movie, they're men and then they're women and then they're men and then they're women again … I wanted to know, 'What's going on there?'"
Their mother explained they were drag queens — and something clicked.
"From that day on, until I was about 10, if I was at a dinner party and someone asked me, 'What do you want to be when you grow up?' I would always say, 'A drag queen!' — to the dead silence of many different parties," Nicholson recalls.
Nicholson came out as non-binary in 2022 and now uses he/they pronouns. "That writing was clearly on the wall," Nicholson reflects – and it made them remember their reaction to The Adventures of Priscilla.
"I saw something in it and thought: 'Are they men and women? Whatever that is, that seems right.'"
No filters
As a judge on Drag Race Down Under, Nicholson's appreciation of drag has been taken to a whole new level.
Sitting next to RuPaul – one of the most famous drag queens in the world – and Drag Race veteran Michelle Visage, they bring all the enthusiasm of a longtime fan of the show.
"As the episodes came out one after the other last year, people would tell me it's almost like I'm having some sort of manic episode, but I always think: 'Why wouldn't you?' The show is so joyful.
"I get to watch the queens do their best, so what would be the point of pretending to be cool? I'm a stand-up comedian – comedy doesn't come from a place of like, 'Oh, we're cool!' We basically all get into comedy so we can lose our virginity."
Starting out on Drag Race, Nicholson was thrown into the deep end: "I just had to go in and begin. First of all, I was expecting there to be writers — and it turns out that no [there aren't any]," Nicholson told ABC RN's Stop Everything!
"I was just so terrified. In the first season, part of the reason I say so many wacky things is because there's no filter."
Nicholson said they were so nervous at the beginning that "it took me three weeks to [fully] realise that I was sitting next to Ru, even though he is the most warm, really interested person".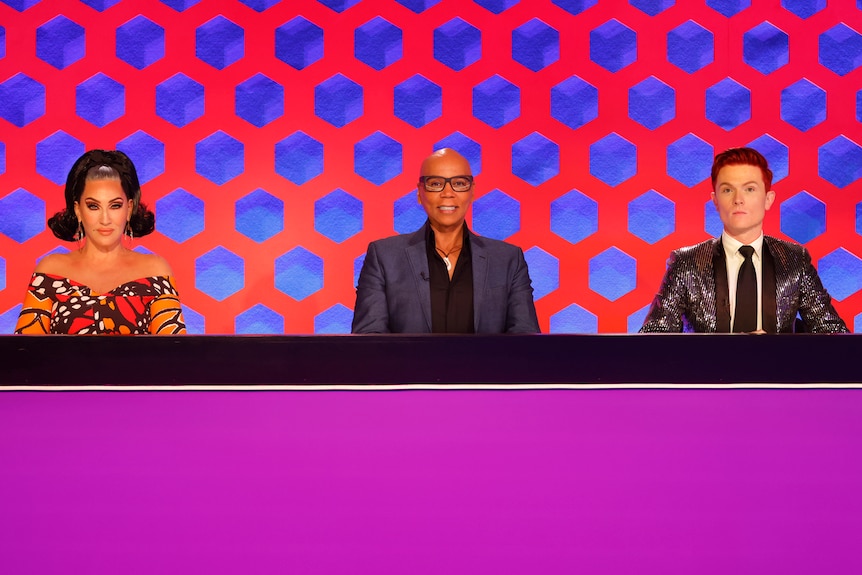 They are aware the rumour mill suggests RuPaul can be inaccessible, even to his co-hosts.
"I think what people confuse from Ru as coldness, or distance, is just someone being a professional person on a film set, who's focusing on what they're doing," says Nicholson.
Even with the constraints of filming during the pandemic, they have stories of reviewing RuPaul's ever-growing collection of perfumes bought at local chemists, and even getting a tattoo with Visage.
Their obsession with RuPaul was undimmed by proximity.
"I think Ru does have this unstoppable [quality]. You can't put your finger on it, this star-power thing that he has. He is a 62-year-old man that plays a convincing 22-year-old woman. How do you do that?"
Read the rest of the story here. First published by the ABC on 23 July, 2022.