They flicked on the television just in time to see the second plane crash into the World Trade Centre.
Moments before, 14-year-old Abdul Abdullah and his brother Abdul-Rahman Abdullah (older by nine years) had been playing Gran Turismo on their PlayStation at home in Perth; now they watched in horror as smoke poured out of the Twin Towers.
It felt distant — "just another crazy thing on the news" — but then, the very next day, the repercussions were felt in their small Muslim community, Abdul recalls.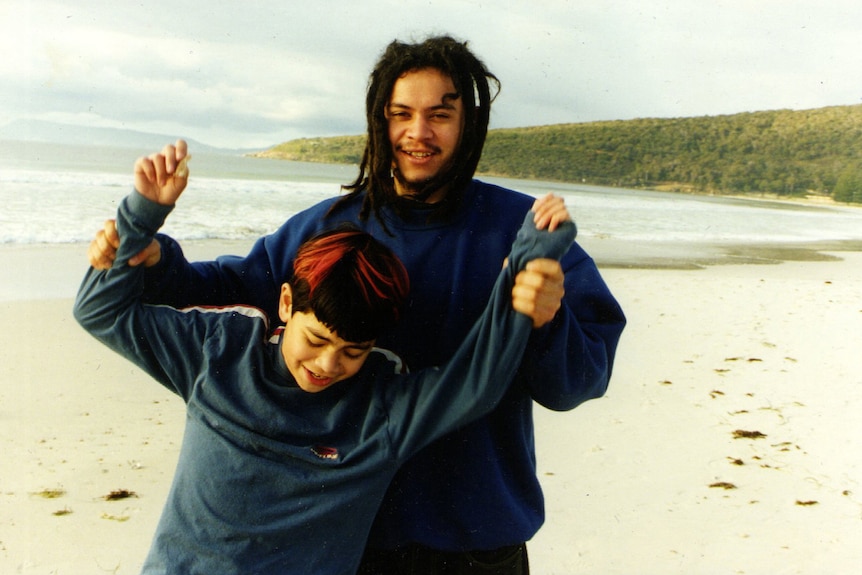 Someone threw a pig's head into the Sikh temple in Canning Vale and graffitied the walls; their local mosque was the next to be defaced.
Then his mother was assaulted, dragged into a store by a group of men who pulled off her head scarf and left her utterly shaken.
"It wasn't the only such incident, and the whole community was on edge. It felt quite dangerous to be outside in some places," recalls Abdul.
As artists, Abdul and Abdul-Rahman both see their work as reckoning with Muslim identities, family and culture, yet they approach it from opposite sides of that cataclysmic event.
"My brother's formative years were pre-9/11 and my formative years were post-9/11," says Abdul, now 36.
"So, when he talked about his cultural and religious heritage, it was looking at the home and the domestic setting and the experience of family.
"My experience — the way that I looked at it and framed it — was of that political perception; very much outside the home, and [in terms of] how we [Muslims] were dealt with in the popular imagination."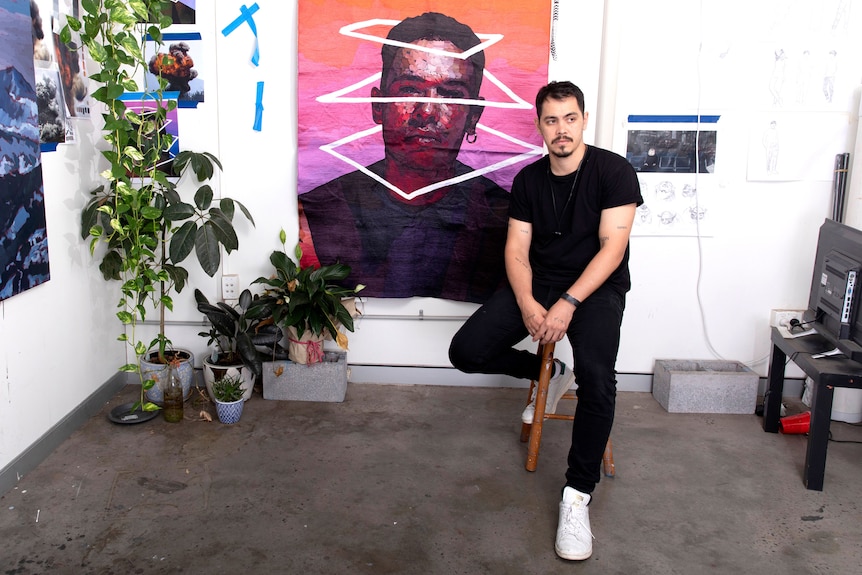 Decades later, the brothers are still mapping these commonalities and divergences.
Their new exhibition, Land Abounds, is at Ngununggula in the NSW southern highlands till July 24, and features old and new work by the brothers alongside video works by celebrated artist Tracey Moffatt (who represented Australia at the 57th Venice Biennale).
A lifelong conversation
The Abdullah brothers are a study in contrasting preoccupations, format and tone; yet when they exhibit together – as they did most recently in Peripheries I and II in 2020 and 2021 – they enter into a dialogue.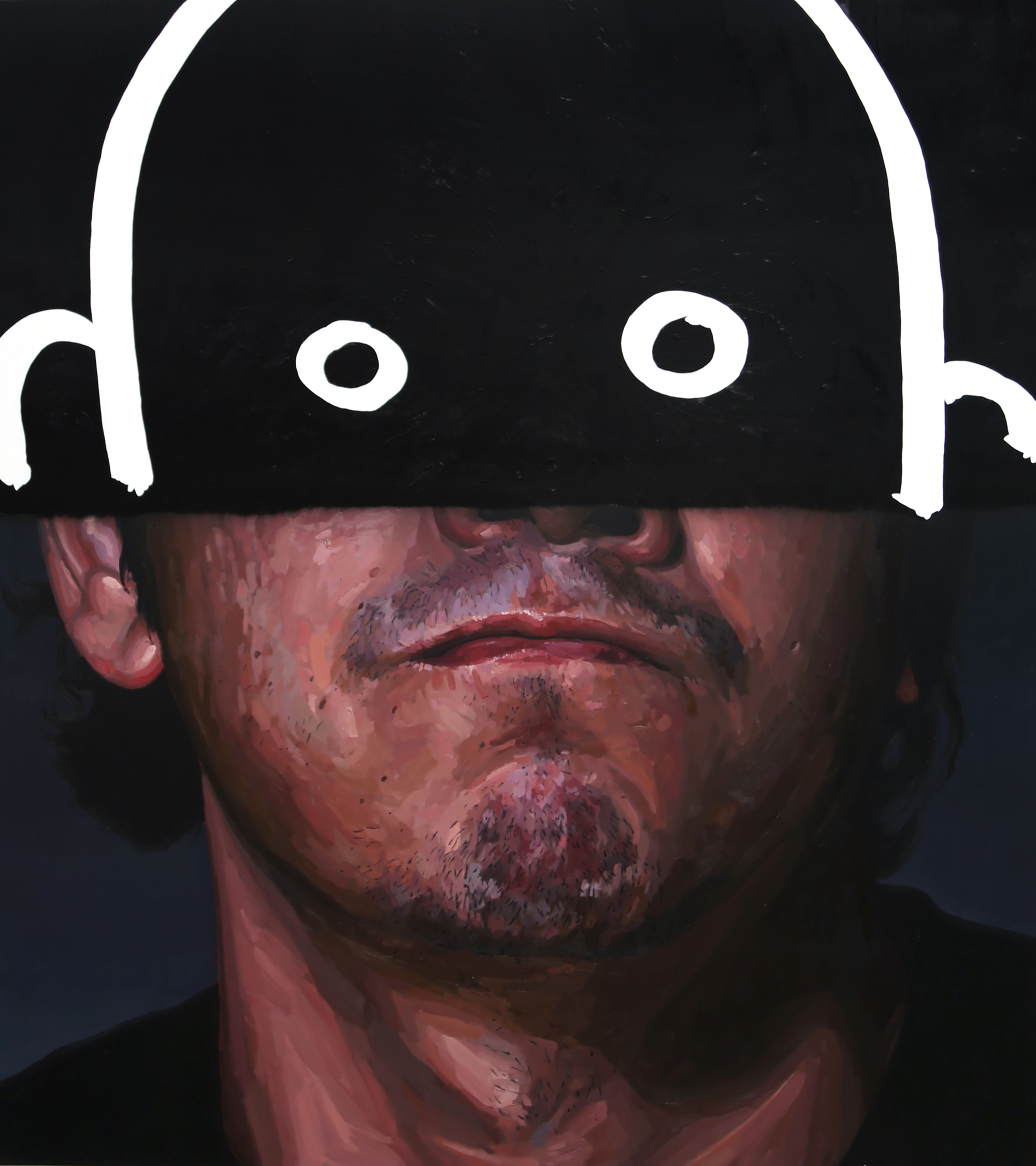 Abdul's striking photography, traditional landscapes and award-winning portraiture are often overlaid with crude graffiti-like emojis or bold text that offer thought-provoking, political critiques of patriotism, colonialism, war and anti-immigration rhetoric.
In works like Self-portrait as an ultra-nationalist and We are the ones that look back from the abyss, he explores what it means to be an "outsider among outsiders"; his portraits of figures such as Anthony Mundine, Waleed Aly, and even himself, have seen him shortlisted five times for the Archibald Prize.
Abdul-Rahman's intricately detailed, life-sized wooden sculptures and installations, often featuring animals, tell stories of his faith and family traditions, layering personal histories and cultural context onto a single, evocative object.
Think an utterly realistic sheep's carcass hanging from a steel hook, conjuring memories of time spent with his father; manta rays in the rain, recalling the jetty outside his grandfather's home; and painted wooden sculptures of Euphorbia, Monstera, Sansevieria plants that serve as a tribute to his mother and her love of family. Where Abdul's work can be a visual shock that provokes and unsettles you, Abdul-Rahman's tends toward the contemplative, asking that you step closer, look deeper.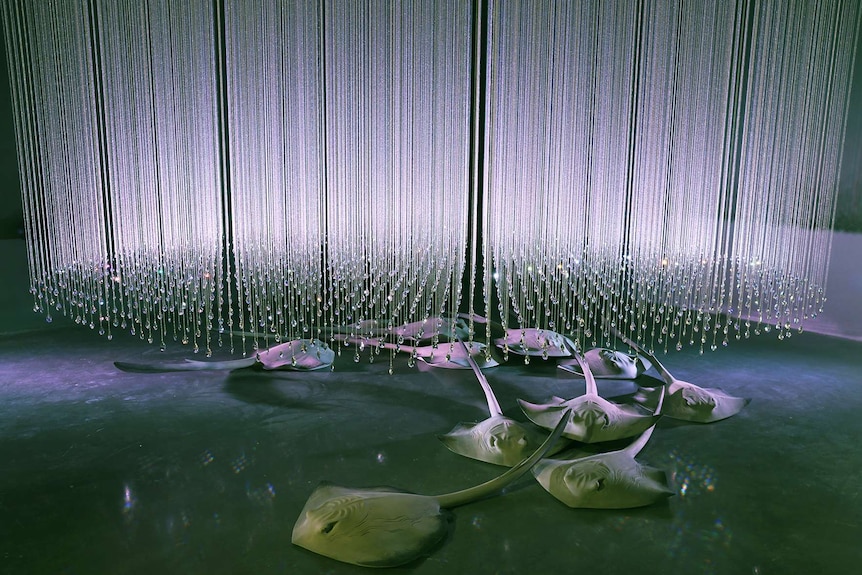 It's a dynamic that goes back to the day his brother was born, says Abdul-Rahman. They often shared the same interests – from boxing to art – and lived together as adults for a decade. They still talk every day.
"Our work is part of an ongoing conversation; a lifelong conversation, if you will, where we do cross over in so many areas – identity, perceptions of identity, different perceptions of who or what is other – but coming from quite different perspectives," Abdul-Rahman told ABC RN's The Art Show.
What does this look like in practice?
In Land Abounds, their new exhibition, it looks like this: a dead horse painfully carved out of Indonesian jelutong timber, lying in front of a panoramic 10-metre-long landscape painting of Berrima, with this sentence scrawled across the canvas: "What would our public collections look like if we divested them of sex pests and paedophiles?"
Read the rest of the story here. First published by the ABC July 3, 2022.