32 years after the riots of Black July engulfed Colombo, there is perhaps only one place in the city where you can still see traces of the fires that were set that day. But that is not the reason why tuk-tuk drivers will throw you an assessing look if you ask to be dropped off at the Rio in Slave Island. For most part, the once luxurious, 60-room hotel is forgotten, as is the adjoining Navah Cinema. It is the third member of that complex – an adult film cinema, also called the Rio – that has earned the venue its notoriety. But today, walk past the box office (unless you would like a ticket to watch Pussy Cat), take a right, brave a dark corridor and you will find yourself at the threshold of the city's most unusual art exhibition.
From August 21, a festival called Cinnamon Colomboscope has brought visitors pouring into the once abandoned hotel for the exhibition Shadow Scenes. About 40 local and international artists have created 51 pieces for the show, which occupies all seven of the hotel's floors and is on view till August 30.
Natasha Ginwala, who curated the show with Menika Van Der Poorten, said that the building itself was one of the reasons she was drawn to the project. Born and raised in Ahmedabad, Ginwala moved to Europe five years ago. For this project, she found her memories of the Gujarat riots of 2002 influencing her response to the space. "It became quite personal. I had to think about this as a living ruin and an archive that had endured this kind of history."
The history she's referring to is the anti-Tamil pogrom in Sri Lanka that was launched in July 1983 after an ambush by the terrorist group Liberation Tigers of Tamil Eelam claimed the lives of 13 soldiers in the Sri Lankan army. Mainly Sinhalese mobs led a week of rioting that left some 150,000 people homeless and anywhere between 400 and 3,000 people dead. The numbers remain disputed.
Today, the area around the Rio is also contested, but for a different reason. The neighbourhood of Slave Island, known in Sinhala as Kompannaveediya and in Tamil as Kompani Theru, both meaning Company Street, was marked for a beautification drive under former President Mahinda Rajapaksa's government. In a controversial move, some 582 families were evicted two years ago to make way for a $429.5 million development project in the area by Tata Housing.
Now, work there has been suspended while Tata Housing negotiates with President Maithripala Sirisena's new government. Meanwhile, the affected families wait in an uneasy limbo.
The first floor of the Rio and the opening of the exhibition attempts to introduce viewers to this context with a series of photographs of the communities affected by the beautification drive. In subsequent levels, artists have been assigned rooms in which to create individual scenes.
The approach has paid off, with diverse responses across a range of media, including film, photography, sculpture, audio and paintings. Room has also been made for foreign perspectives, from the quiet sophistication of Indian artist Rathin Barman's brick dust and ink in Documentation of Architectural Reconciliation to the Karachi-II series, Pakistani artist Bani Abidi's meditation on the cinemas of Lahore.

Bani Abidi: Funland, Karachi Series II, 2013-14, film and photographic prints. 
At the very top, in what once housed the nightclub Eagles' Nest, an audio installation by Colombian artist Pedro Gómez-Egaña, and a panoramic view of the numerous development projects dotting the city greets visitors. "From up there you can hypothesise what future can be composed from the present of the city," said Ginwala, "while in the interior you move through the past, shuttering across time and temporalities."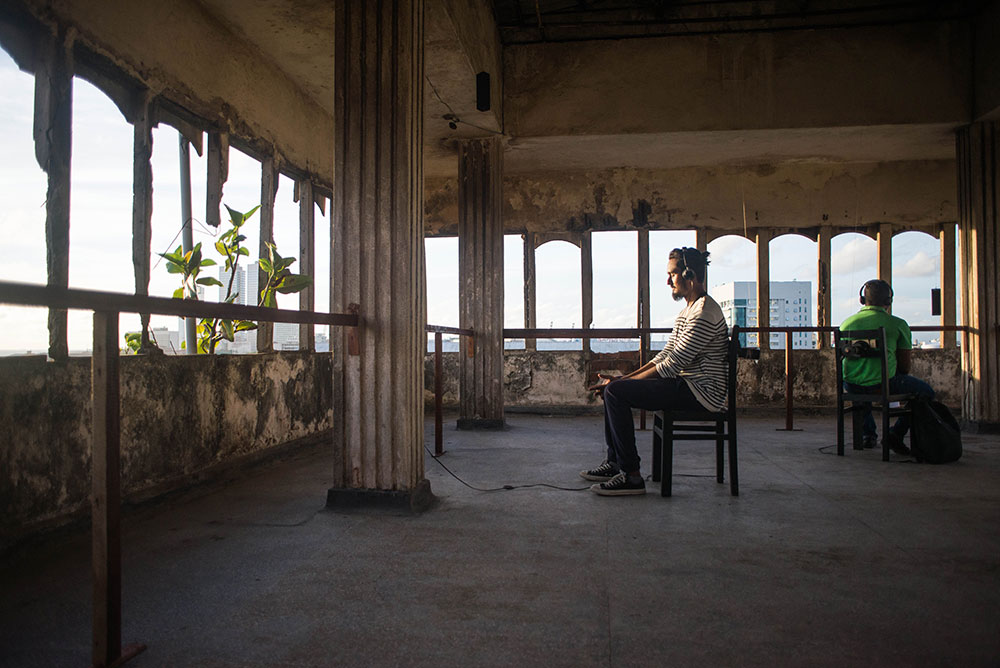 Pedro Gómez-Egaña: The Vimana Kiranaavarta Observatory, 2015;  sound installation. 
Preparing the decrepit building for this exhibition has presented its own set of challenges. Jan Ramesh De Saram, cultural affairs coordinator at the Goethe-Institut in Colombo, says the entire structure first had to have electricity put in. Sections with broken roofs, which were open to the elements and frequently flooded, had to be repaired, he added. Undaunted, artists Mahen Perera and Janananda Laksiri actually took advantage of the stagnant water in their rooms to create a reflective surface for suspended, site responsive installations.

Mahen Perera: Things, 2015; site-responsive sculptures.
Taken together, the 51 exhibits have in common an approach that emphasises participatory, research-based, highly personal and socially responsive works, said Van Der Poorten. She took particular care to include pieces by artists such as Pakkiyarajah Pushpakanthan, Thavarasa Thajendran, Mariya Thevathas Vijitharan and Thujiba Vijayalayan, who live and work in Jaffna. The region felt the full brunt of the war, and as a consequence has been traditionally underrepresented in the country's art scene.
Among the participating artists are those who have been internally displaced or imprisoned both during the war and in violent insurrections such as those staged by Janatha Vimukthi Peramuna in 1971 and again in 1987. The artwork that arises from this lived experience is powerful and emotive.
In T Shanaathanan's Nation for instance, a barricade of traditional sand bags is interspersed with sacks made from lavish wedding sarees – the last resort of people who had run out of other materials from which to build their defences. The barricade is circular, and the space around it, representing civil society, is narrow and cramped.

T Shanaathanan: Nation, 2015; installation.

Prominent artist Chandraguptha Thenuwara is one of those whose works are on display. Since 1997, Thenuwara has staged a brave annual one-man exhibition in memory of Black July. Until 2009, when the conflict was brought to a brutal conclusion, his works were determinedly anti-war but in the post-war years he took to grappling with contemporary issues related to ethnic divisions in the country.
Since a change in government in January, there is a sense that there is now more room for national introspection. Thenuwara is pleased to see something on the scale of Shadow Scenes take place. "This might be the only space remaining that is related to the 1983 riots; beautification and development have erased a lot of memories," he said of the Rio.

Chandragupta Thenuwara: Lotus Zone, 2015; drawings and installation. 
Some of the young artists engaging with these issues weren't even born in 1983, but Ginwala said the curators made a determined effort to ensure the exhibition wasn't mired in the history it was grappling with. "For us it was not about looking back and being immobilised," she said, "but saying, this happened and now what can we do from here."
A few other works from the exhibition.

Kavan Balasurya: Capital Complex, 2015; acrylic, graphite and pastel on paper.


Pradeep Chandrasiri: Inside the Charcoal Mountain, 2015;
installation with charcoal wall drawing. 

Agnieszka Polska: The leisure time of a firearm, 2015; mixed media. Photo courtesy of artist and Żak | Branicka Galerie, Berlin.

(Above and below) Pala Pothupitiye: Borakakul & Borakakul, 2004; installation.
Published on Scroll.in on August 27, 2015. Words by Smriti Daniel. Pix by Ruvin de Silva.